Pedal-Powered Home Lighting
We have illuminated our home using human-powered electricity for the past several years. Battery-powered LED lights in rooms and hallways around our house provide the light we need at night. I recharge their batteries using the generator on my pedal-powered computer.
Lighting your home this way has many advantages:
It uses 100% renewable energy.
Your lights never go out when the power fails.
You can recharge the batteries any time, even when it is dark outside or the weather is poor.
You can put lights anywhere in your home, including areas without light fixtures or power outlets.
The lights are portable, so you can move them whenever you feel like it.
It provides a daily source of exercise.
Your original lighting system is maintained, which you can continue to use when and where you prefer.
No building modifications are necessary, making this lighting system an option even if you rent.
In short, a human-powered home lighting system using battery-powered LED lights allows you to have a completely reliable, off-the-grid, renewably-powered home lighting system, regardless where you live.
In this post, I will describe the battery-powered LED lights, rechargeable batteries, battery chargers, and the pedal-powered generator we use to provide most of the lighting needs for our home.
LED lights
Motion-Activated vs Manually-Controlled
We have almost two dozen battery-powered LED lights distributed around our home. About two-thirds are manually controlled, the rest are motion-activated. Most are mounted under a cabinet, stuck on the side of a magnetic surface, or simply set on a shelf or counter. A few of them I modified to fit our needs.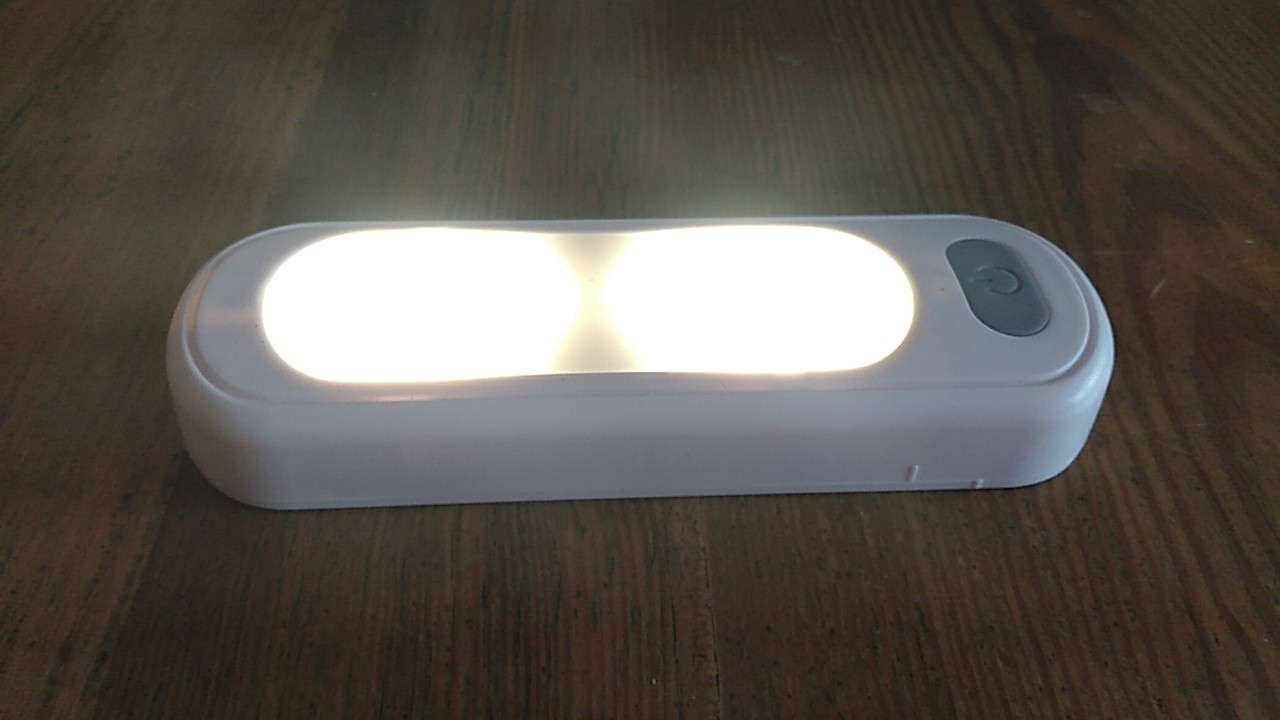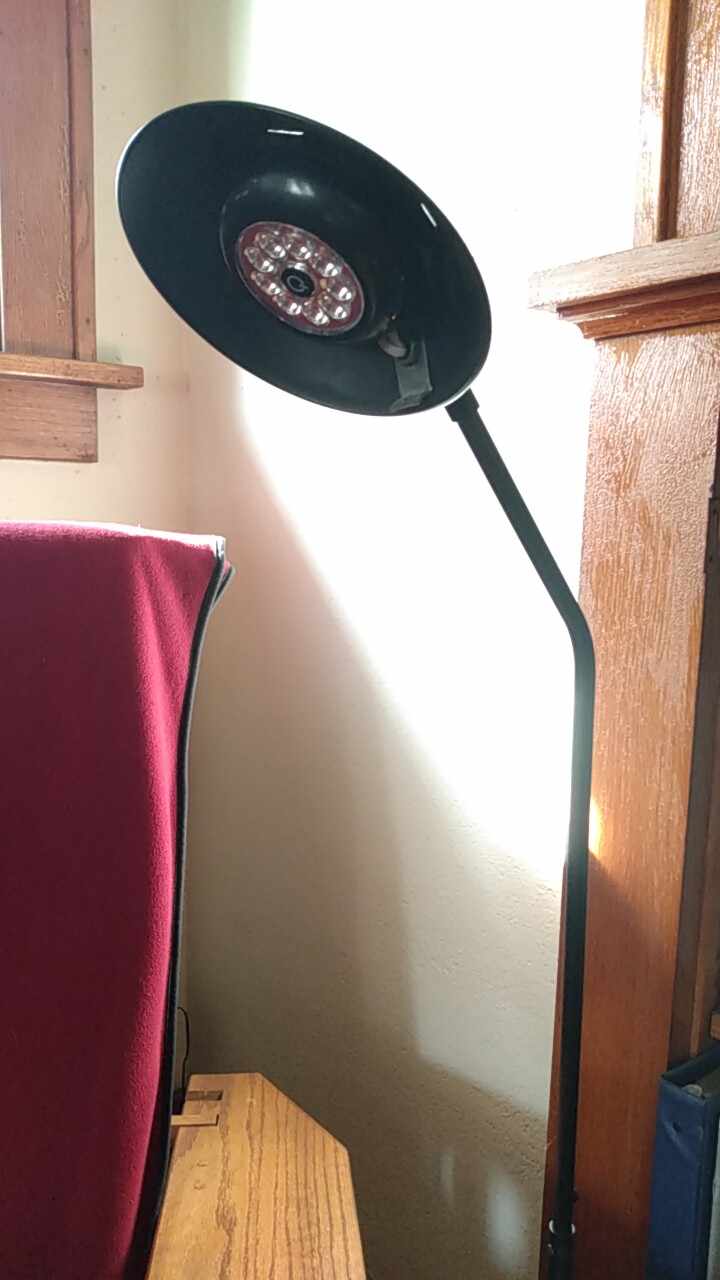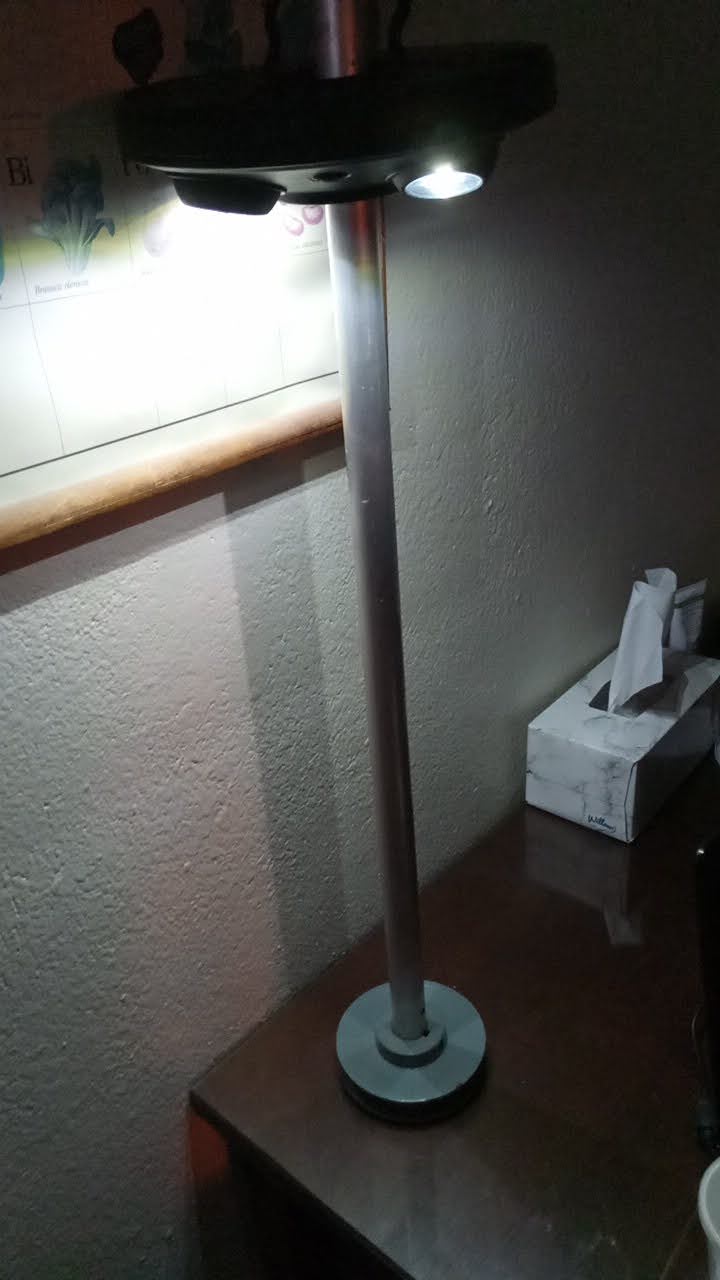 Motion-activated lights operate by detecting changes in background infrared radiation (i.e., heat energy). Since humans give off heat, walking within range of a motion-activated light causes a change in the background IR level and turns the light on. If no change in background IR is detected over a given period (usually 30 or 60 seconds), the light shuts off.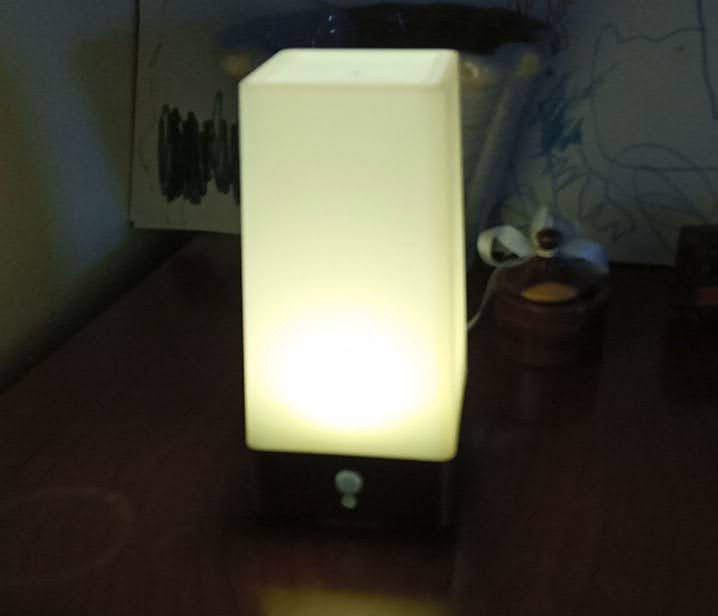 Motion-sensing lights cost a little more than manually-controlled lights, but the added convenience of having a light turn on and off automatically when entering and leaving a room is worth it to us.
Since motion-sensing lights switch off when no detectable motion is present, motionless activities like reading a book require a manually-controlled light. Motion-detecting lights often have a manual on/off override switch for just this reason, but it's often on the rear of the light and difficult to reach. We usually find it more convenient to just place an additional manually-controlled light in the same room.
Brightness
Battery-powered household LEDs vary widely in brightness, anywhere from 10 to 300 lumens depending on the light. Dim LED lights don't provide enough illumination to be useful, so it's important to choose lights carefully.
Unfortunately, the amount of light a battery-powered LED produces often isn't provided by the manufacturer. You can't judge a light's brightness by the number of LEDs it has either, as brightness is a function of both the number of LEDs and the brightness of each LED. Lights with just a few LEDs are often brighter than those having many more LEDs.
We failed to take this into account when we bought some of our LED lights, and now regret it. We now only purchase lights with a luminosity of at least 50 lumens. If a light doesn't specify its luminosity on the label, we don't buy it.
Color Temperature
White LED lights are usually classified as either "warm white" or "cool white". Warm white LEDs have a lower color temperature (2700-3000K), giving them a yellowish color tinge. Cool white LEDs have a higher color temperature (4000-6500 k), making them slightly blue.
Which to choose is a matter of subjective opinion. We prefer cool white LEDs. If you have two lights in the same room, be sure they have similar color temperatures. Otherwise, they won't match.
Rechargeable vs Replaceable Lights
LEDs lights can either have a built-in, rechargeable battery, or use replaceable batteries. The former are recharged using a USB cable, the latter require a separate charger and rechargeable batteries.
Lights with replaceable batteries are sometimes called "non-rechargeable lights", and often include a set of non-rechargeable batteries. However, rechargeable batteries will work too (more on this later).
Lights with built-in batteries are often less expensive than a comparable replaceable-battery light when the cost of rechargeable batteries and a charger are included. However, built-in battery lights have two weaknesses:
They can't be used while the battery is charging.
If the battery fails, the entire light must be discarded.
For this reason, we mostly use lights that use replaceable batteries.
Replaceable-battery household lights usually use either AA, AAA, or coin-size (e.g. CR2032) batteries. We only use lights that require AA or AAA batteries. Coin-size batteries have too low a useful capacity and usually aren't rechargeable anyway.
When shopping for lights, make sure the batteries are easy to replace without tools. A couple of our lights require a screwdriver to replace the batteries, which is a real nuisance.
Batteries
NiMH vs Alkaline batteries
The most common AA or AAA battery sold in stores are alkaline batteries. However, alkaline batteries are not rechargeable. We instead use rechargeable nickel metal hydride (NiMH) batteries. They cost more than alkalines, but can be recharged hundreds of times and last for years.
NiMH batteries have a slightly lower operating voltage than alkaline batteries (1.2 V vs 1.5 V), As a consequence, NiMH need to be recharged a little more frequently than alkaline batteries need replacement.
NiMH batteries are often described as being "low self-discharge", or LSD. Older NiMH batteries tended to lose their charge rapidly when not in use. This tendency to self-discharge required charging them more frequently. LSD batteries were introduced in 2005 and, despite having a slightly lower capacity than "standard" NiMH, are now the most common type sold. Nearly all the batteries we use are LSD.
LSD NiMH batteries are available in standard capacity (<=2000 mAH) and high-capacity versions (2300-2800 mAH). We have both types and haven't noticed much difference in runtime between them; however, we rarely discharge batteries enough to manifest the difference. High-capacity batteries are slightly larger in diameter, which can cause them to get stuck in narrow batteries where the batteries are stacked end-to-end.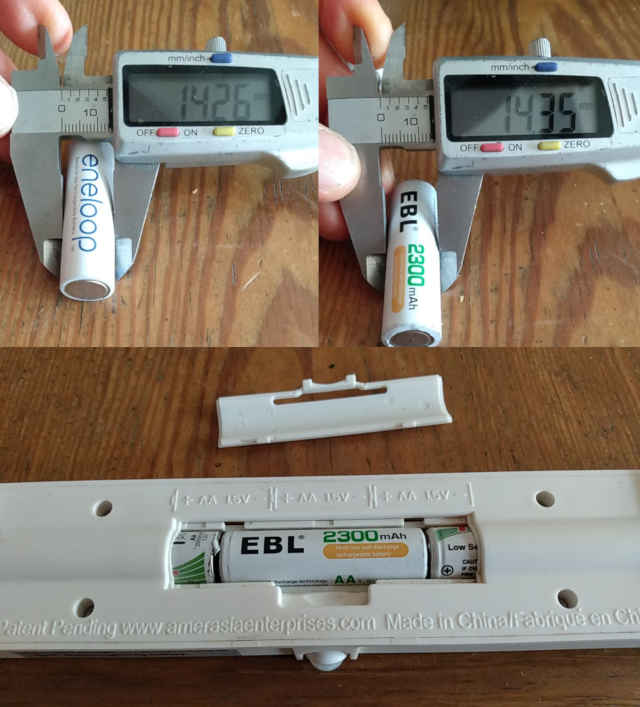 With Batteries, You Get What You Pay For
We have tried the following battery brands:
Enerloop (Panasonic)
Tenergy
EBL
Recycko
Powerex
BTY
Enerloop are my favorite. They are standard capacity--so they fit any battery case--and have been the most reliable. They are also the most expensive.
Tenergy are less expensive and have the same capacity and diameter as Enerloop, but have been slightly less reliable (a few have failed to charge on one of our chargers after repeated use).
EBL are almost as durable as Enerloop, but are slightly larger in diameter and therefore tend to get stuck in narrow battery cases. Recycko and Powerex suffer from the same oversize diameter problem.
BTY are the least expensive brand we've tried but made very poorly. The batteries weigh noticeably less than comparable batteries, which indicates they skimped on the metals that make up each battery. Consequently, they charge more slowly and discharge more rapidly than any brand we've tried. It is the only brand of battery I do not recommend.
Battery Charger
Input Power
Battery chargers can be powered in one of three different ways:
110 VAC power cord,
12 VDC external adapter, or
USB cable
Since most pedal generators typically output 12 VDC, a 110 VAC-powered charger needs a 12 VDC to 110 VAC inverter. This inverter not only adds to the system's cost, it wastes energy. For this reason, we don't use these kind of chargers.
Chargers with a 12 VDC external power adapter can be powered directly from 12 VDC if you replace the power adapter with a 12 VDC power cord (aka, car power adapter). We used this type of charger for several years before switching to USB-powered chargers.